Technology has advanced a great deal in the recent years. Smart phones have changed the way we communicate, and have also become an integral part of our health.
With hundreds, if not thousands of different gadgets out there, we thought we would look for best top 5 in each category. We looked at factors such as user convenience, reviews on popular sites and affordability as we understand that complicated gadgets can sometimes get on your nerves!
Of course, we have listed a few for the tech savvy folk as well.
In our article on walking 10000 steps and pedometers, we emphasised how important it is to reach one's target so that they can achieve the level of weight loss and fitness they desire.
Below are some cool gadgets that we think are the 'bees knees' when it comes to monitoring your health.
This cool cat is currently ranked the best seller in Electronics and Gadgets on Amazon, and there is a reason for it.
This high performance wrist band has an automatic continuous heart rate monitor that keeps an eye on how fast your ticker is ..well…ticking. In addition to this, it has an activity tracker that monitors your daily calorie burn.
For those who are serious about their exercise, this device can help maximise your training time too.
Some of the other features that the Fitbit Charge sports includes –
PurePulse heart rate
Auto sleep and silent alarm
Caller ID
OLED display
Seamless linking with computer or phone app wirelessly
Check out their feature video below –

Whats good about it
Firstly, it is one sleek looking thing. It is available in 2 colours that suit your taste, but then, we love the black.
It is available in small and large sizes. The large fits a wrist of between 7″ to 11″.
Users have found the Fitbit Charge heart rate monitor to be quite accurate. The caller ID feature is quite handy, especially if you are a busy individual who finds little time to exercise and is interrupted when you get a phone call during your exercise routine (takes away the need for you to take out your phone from your pocket and swipe to cancel/answer).
The battery life is decent, and a full charge can last up to 3 to 4 days. Recharging is simple.
The app integrates well with the product, and the analytics are decent.
The not so good part
Users have constantly complained about the poor accuracy of the step tracker. Since the Fitbit Charge is worn on the wrist, it often calculated movements of the hand as steps! For example, if you ride a motorcycle, then the movement from hitting a few bumps can be counted as steps. It does not measure blood pressure. A handful of people have noticed a skin rash after wearing it.
While it is resistant to your sweat, it is not waterproof, so don't use it in the shower or when you swim.
Our verdict
From user reviews, we feel the Fitbit Charge might be a good device to watch your exercise routine if you are just starting out and are sure about serious exercise regularly. It is not the cheapest on the market, but is considered by many as the best. The small imperfections here are there are unfortunate, but all in all the customer satisfaction rate is high.
This unisex tracker is yet another best seller that is described by company as the 'complete ecosystem to live a healthier and fitter lifestyle'.
Armed with precision motor sensors and algorithms, the GOQii can keep tabs on your daily steps, active time, distance covered, calories burned and even 'karma points'!
The software works on all platforms – Android 4.3 and above, Windows Mobile 8.1 and above and IOS 7 and above. The app links to your personal habits as well, and assigns you a personal coach who will inspire the user to work at their exercise harder. These coaches are real life certified professionals who provide tips and guidance on health and wellness on a regular basis. We think that this is quite a unique feature that can be a boon to some.
The 'karma points' refer to the steps walked daily. As Mahatma Gandhiji walked 390 km for the Dandi march, the GOQii records 390 steps as 1 karma point. If you accumulate more points, that will convert to money that can be donated to a charitable cause! Quite something, isn't it?
Check out their sales video –
What we love about it
The sleek design and the combination of black and red is a classic. The coach service is unique and can be very handy if you need motivation to get off the couch. The karma points rock!
The not so good part
The tracker is basically a subscription service. If you stop your subscription, you are left with just a band around your wrist without the coach and the app. Some users have stated it does not integrate with older models of the iPhone.
Our verdict
Its a tough one. We are torn between the sleek design,simple features and karma points, and the fact that you have to keep paying to keep the band working. It might be a good one to go for if you have some spare cash lying around and wish to fiddle with a gadget before getting into some serious tech.
Yet again, this cool custom fit bracelet can track your activity 24 hours a day, 7 days a week. It provides motivation feedback after each workout and tracks your total steps, calories burned and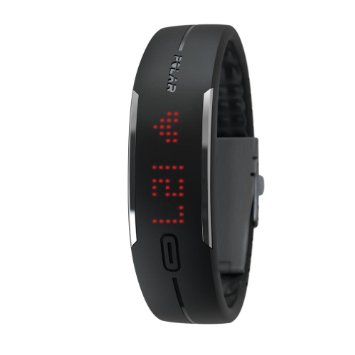 whether or not you have reached your daily goal.
A rather unique feature is that this tracker can detect 5 different levels of activity, and is able to differentiate between whether you do a simple, light walk versus whether you do a run.
The app links seamlessly with the device and is available on the iPad, Android devices and most other devices commonly used these days. However, it cannot work with the iPhone 4. The data from each activity is downloaded to the app, but requires the owner to enter their weight manually every day along with a few bits and pieces of their personal information such as age, sex and height.
What users say
The LED array of the Polar Loop Activity tracker is visible even in bright sunlight. General reviews about the look of the product are positive (some people have even called it 'damn sexy on your wrist'!). The battery life is good (around 7 hours) and is reasonably priced.
However, it only works with certain android devices, so make sure you have the right one before you dish out on this kit. The battery life appears to be lesser than other competitors and it does not have a heart rate monitor built in.
Our verdict
Its decent, but probably not the best. It does however look cool. Might make a good gift for someone who is looking to get started in fitness.
This is the bad boy amongst all the watches, and probably one of the more majestic, yet suave looking. It is best suited for those who are REALLY serious about their running/exercise routine.
With a strap that is available in different colors, the TomTom Runner Cardio GPS sportswatch can record your heart rate in real time, which is a great tool if you wish to train in a particular heart rate zone. The large display shows time exercises, distance covered, heart rate and calories burned.
What users say
Despite the cost, users feel it is a must buy for those who are looking to make some serious upgrades to their exercise routine. The GPS feature is quite something. When compared to the Garmin, the watch is able to pick up the GPS signal a little quicker.
However, some people have found the back light a little dull. Occasional spikes in the heart rate may be seen even if the heart rate remains normal, albeit by a few beats.
Here is a video from the TomTom official challenge that shows you a bit of what it can do.
Our Personal Choice?
The FitBit Charge!! Easy to use, great app and just an overall great looking piece of kit.
Save
Latest posts by Heart Sense Team
(see all)